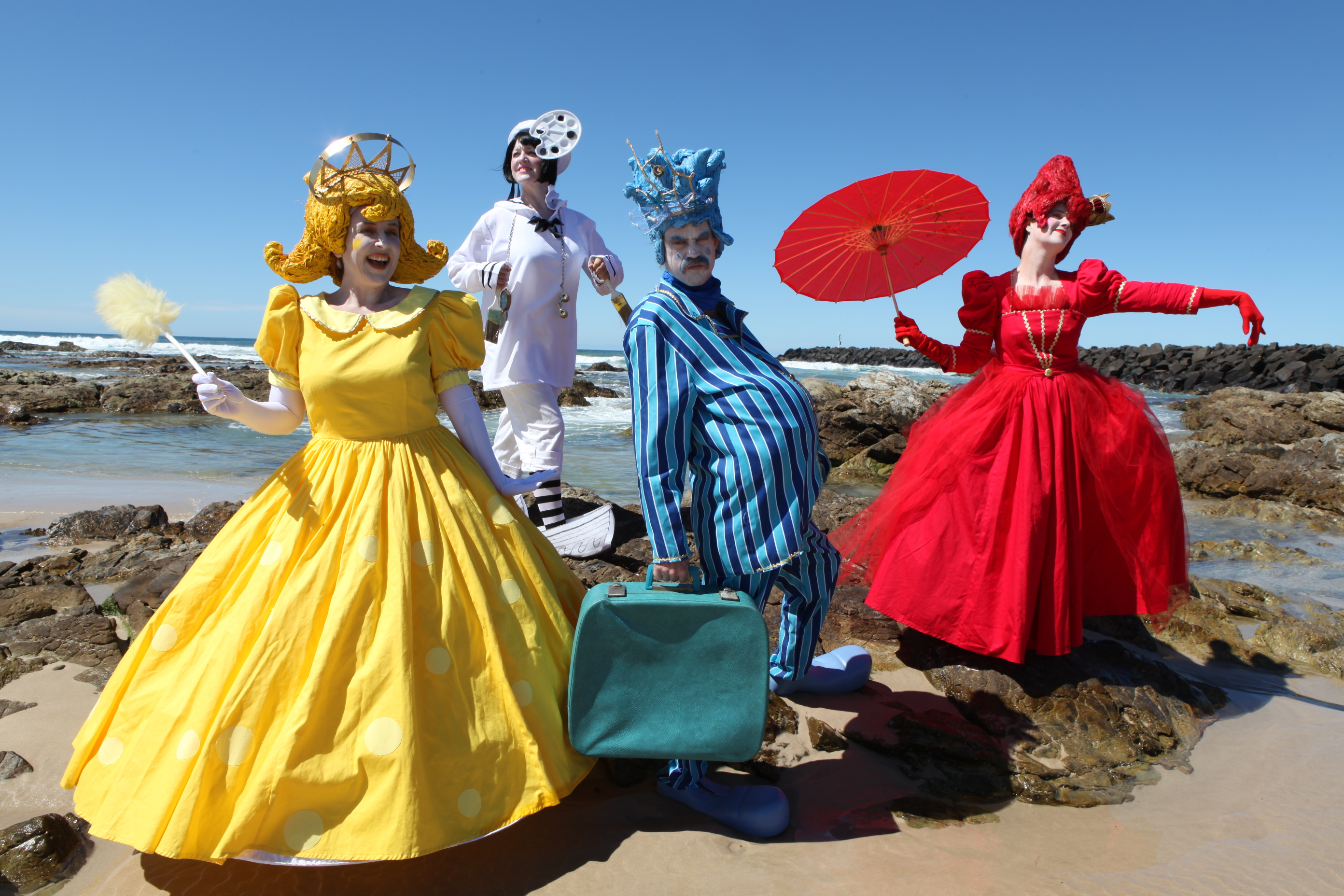 This highly interactive children's show is a poetic metaphor for exploring differences. It's an inclusive, playful journey, which invites children to create rainbows from opinionated primary colours. As they engage with this tale of transformation, their actions drive the story to a celebratory conclusion.

The show's up close and immersive format encourages children to invest in the characters, the story and beyond the show into an exploration of colour theory, with a new visceral and theatrical intrigue.
Colours was originally been performed as an outdoor theatre piece for festivals including: Lismore Regional Gallery ' Artful day ', ' The Arty Party' Lismore, Mackay Arts Festival, Surfers Paradise Festival, Cairns Festival and Pacific Fair Shopping Centre . It has been presented in a variety staging configurations, with extra sets and backdrops being added as required. The show has performed on the grass, on mounds of sand, in a marquee, on a stage and in a movie theatre.


SOME TESTIMONIALS 
Thank you so very much for inviting Coffee Camp School to your stellar production of Colours during the Lismore arts week.
We all found your interpretation of the theatre medium extremely educational, versatile and (of course) entertaining!
Here are some quotes from my students:
"It was cool and colourful!"
"Colours speak louder than words."
"Very artistic"
"Lovely and colourful."
"The colours really spoke to me."
"It was so nice to meet the primary colours."
Ray Crane, Teacher. 
The Colours Show was programmed as a key feature of Artstate's site-specific arts program presented in Lismore in December 2017. The work was specifically selected to showcase Roundabout Theatre's immersive child-led theatre practice. The experiential work is a sophisticated escape into the hyper-real imagination of the under 8's, stitched together by a strong narrative and stunning set design by Valley Lipcer. The combined effect is like diving into a kaleidoscope of colour and vivid joy.
Marisa Snow, Artstate Creative Director.