THE CREATIVE TEAM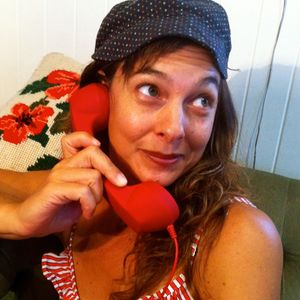 VALLEY LIPCER
ARTISTIC DIRECTOR /PERFORMER/ PRODUCER

Valley Lipcer is a graduate of The John Bolton theatre school, has a  BA in Writing and Media from Southern Cross University and has worked in the the performing arts for 17 years.

Valley performed with the acclaimed physical theatre company Strange Fruit  for 7 years, collaborating on the creation of three new shows and touring to over 200 International Arts festivals in 26 countries. She was also a puppeteer with Snuff Puppets and toured to Europe and Korea with them, as well as the Olympic Arts Festival, Adelaide Festival, Melbourne Festival and MOOMBA.
 
As an independent artist she has written and directed educational and environmental shows, run youth arts projects, created numerous street theatre pieces and installations and more recently produced and directed the arts program for the Byron Bay Falls Festival and Byron NYE.

In 2005 Roundabout Theatre was born alongside the first of her two children and has continued to grow as they do, keeping her busy - body, mind and spirit.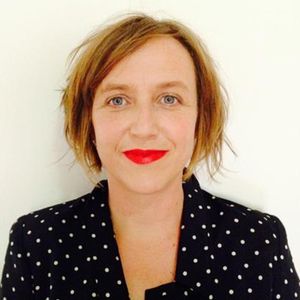 CLAUDIE FROCK 
CORE PERFORMER / COLLABORATOR / EDUCATION CONSULTANT

Claudie Frock has worked for Roundabout Theatre for 6 years as a core performer and co-conspirator in creative developments. She has BA in Visual Arts with Honours and Diploma of Education from Southern Cross University, and has studied with performance practioners such as Patch Adams, Al Wunder, Bernie Warren, David Symons, and Caroline Connors.

She has a broad performance background, and works within the realms of clowning, improvisation, music, (vocal and ukulele), puppetry, movement based, character driven performance, educational performance and visual art. She worked for the Clown Doctors for three years as Doctor Freckles in hospitals throughout Australia.     

Claudie currently works as Learning officer for the Lismore Regional Gallery, NSW, where she was also commissioned to develop Peggy Popart, a performative tour guide character, taking young people on tours of the Gallery's exhibition, to engage the audience in a fun, arts based educational and thought provoking performance.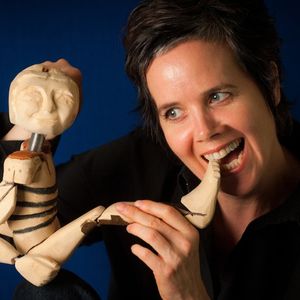 GABRIELLE GRIFFIN
CORE PERFORMER / COLLABORATOR

Gabrielle has been an independent performing artist and theatre maker since 1994, discovering a love and talent for puppetry in 2003. She toured Australia, Asia and Europe performing puppetry for adults with Krinkl Theatre 2003-2008. She began collaborating with Valley in 2003.
 
In 2008, funded by South Australia's Arts SA, she created her first solo show Pegging up the Sky, which received an Award Nomination for Best Puppetry Adelaide Fringe 2009. In 2009 she was Head Puppeteer for the Adelaide Festival production of La Fura Del Baus' Le Grande Macabre. She also travelled to the World Puppetry Festival in Charleville-Mezieres for Professional Development, supported by Arts SA.
 
Her 2011 full-length solo show PIE was funded by the Australia Council, and produced and performed at Vitalstatistix Theatre Company. It was reviewed as  'ethereal', 'haunting', and 'not to be missed'. She has just completed her latest solo show Puzzle, funded by Arts SA, in a 'pop-up' mobile puppetry booth, incorporating film and live puppet manipulation, to an evocative soundscape. Her work is non-verbal.
 
Gabrielle has worked passionately in a wide variety of settings, from roving street theatre at festivals to intimate bedside shows in hospital intensive care; from the cobbled streets of France to world-class theatres in Singapore; across dance, film, theatre, and cabaret. She is a valuable member to Roundabout Theatre as a performer and a visionary, as well as being an award-winning author (she is a stickler for punctuation).   Visit her website for more details: www.gabriellegriffin.com.au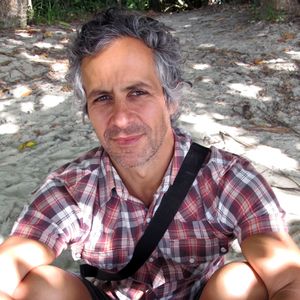 PAUL BLAY
DESIGNER / PERFORMER / INSTALLATION / PUBLIC ART

Paul is a designer dedicated to creating modern, artistic, functional and environmentally sensitive design. He utilizes traditional and modern digital techniques in developing and presenting innovative and exciting concepts.

His professional career in landscape architecture has spanned 20 years, incorporating a desire to blend the beauty and strangeness of our natural environment with urban design, to create beautiful and inspiring "places for people" that reflect the spirit of community, creativity, diversity and individuality.

He has also worked as a musician and percussionist, and as a performer with Snuff Puppets, STOMP, and Roundabout Theatre since 2012.

Paul has worked in various capacities on Roundabout's installations since 2009, including 3D designing works and feedback on all our big ideas incorporating public space. We look forward to working more closely with him to create large scale performance sculptures... Stay tuned!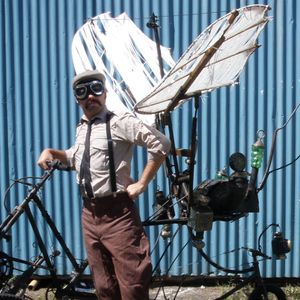 MARTIN PEDDER
DESIGNER / MAKER - ROVING ACTS

Martin Pedder graduated from NIDA in 2007 with a Bachelor of Dramatic Art, Production Crafts and Properties.

He has been a prop builder for Brisbane theming companies - The Prop House, Hannaford's Events and Magical Merchandising, and was set and costume designer for the NASH Theatre Company's Frankenstein (2004) and for The Arts Theatre QLD's Amadeus (2005). The latter won two awards for Best Set Design and Best costume at the ACT UP Awards. Martin also won Best Production Design in 2006 for his work on the short film 'But a Giant Leap For Mr. Larkin'.

He has designed costumes for the Annual Costumers Guild Ball, The Sydney Gay and Lesbian Mardi Gras, and the 2003 Gay Games Opening Ceremony. He also produced two successful fashion ranges, which were sold though NSW and QLD Boutiques.

Martin has worked as part of the creative team in the company Lightnup Inc. based in Northern NSW, and the 2007/8 Woodford Folk Festival, and taught the Theatre Design (Costumes) Program at the North Coast Institute of TAFE.

Martin joined Roundabout in 2009 when he was commissioned to build the Snail (Slow Show), and continues to be a valuable collaborator.